Contact Us - (703)560-4350
H
ave a
question or need more info? Please feel free to email us at:
aandbdecorating1@gmail.com

To serve you better - you
may also attach a photo of the room or item you need remodeled/repaired.

Customer Testimonials

Shana and Bob Collidege - Fairfax, Virginia
We hired A&B Decorating to install recess lighting, re-model 2 bathrooms and paint our entire condo. From the minute I phoned A&B Decorating, I knew they were the company that we would use! They were VERY professional and VERY trustworthy. The entire project took slightly over a month and we loved everything that they did! What is really wonderful, is that NOTHING was subcontracted out. A&B Decorating can do everything so there is no coordinating between subs! I would highly recommend A&B Decorating!

Robert and Caroline Hurley - Great Falls, Virginia
We hired A&B Decorating from a friend's referral who had their home done by A&B Decorating that we loved. They remodeled our (2) bathrooms and our Kitchen. We were so pleased with the end results, and we were shocked in the short time frame it took to complete all the work. I must admit that their attention to detail is impeccable. We highly recommend this company.

Mendy Cunningham - Vienna Virginia
A&B Decorating definitely aims to please!! They stay in touch with you so you know what's happening with your project.
They are willing to go the extra mile which is VERY rare in Northern Virginia.

Caroline Fullerton - Reston, Virginia
I have had 2 projects completed with A&B Decorating, and both have been of the highest professional
quality and workmen ship. I will definitely be using their services in the future.

Mark and Betsy Carbo - Herndon, Virginia
A&B Decorating is an outstanding company to work with. There were on time and on target with exactly the
bathroom we wanted and the best price we received out of 4 estimates. Working with them was a pleasure,
and we picked the design and the materials and they were at our house the following week. WE highly
recommend them and plan to use their services again on our next project.



Coupons / Special Offers (To Redeem - Print Page and Cut Out Coupon Below)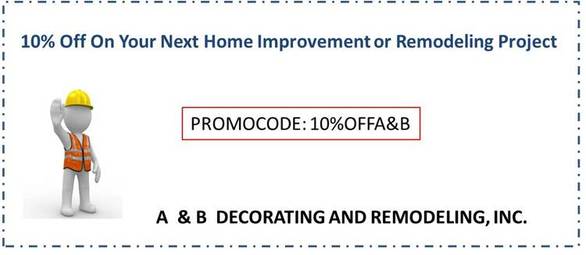 ---